Add Alt and Title Tags to Images is very important in Blogger because it improves your Traffic and increases your site ranking. When you Write Some post in blog or WordPress when you add some pic in your blog then it is used .if you want to improve your ranking and traffic then use it. When anyone uses Google images then Search some topic then your blog image will appear. Everyone knows Google does not give import ants to Images and now when you search something it does not give result image. But it gives value to Google images. Blogger uses it Because the ALT tag text boosts the SEO of your blog.it is Also Part of SEO.if you use Alt and Title tags can bring a lot of traffic from Google Image Search.
How to add alt tags to Blogger images
Log in to your Blogger account
write a new post if you write then edit
Add new Image Click image Option.
Adding the alt text attribute to image tags for SEO
Now upload an image in normal compose mode and select the image. when you upload image Click Properties.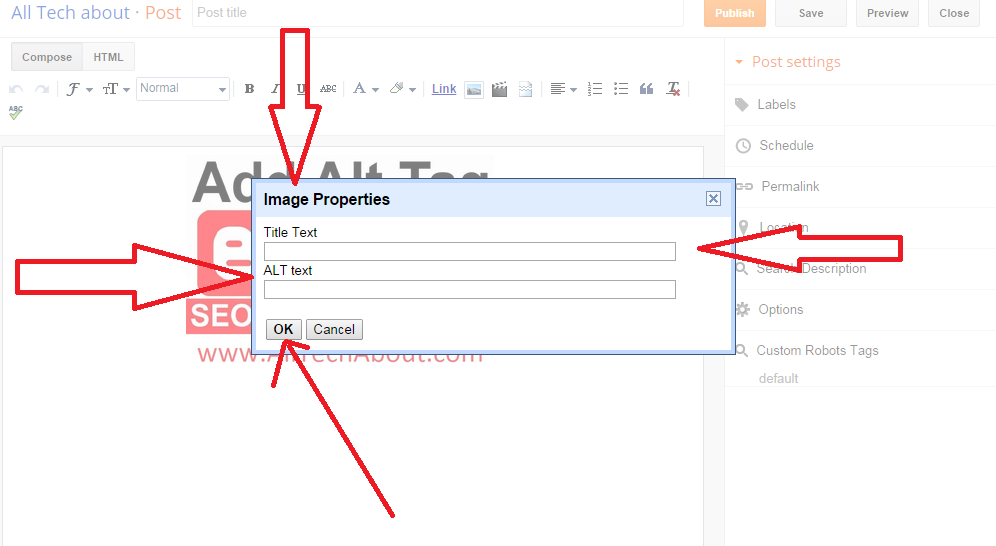 A new bar will open when you click on Properties. and open Title Text and Alt Text Option
Now Fill Up Option and write Text But carefully Don't Write Text same in every post because use text Related  to  Post
if you use this it improve your blog SEO and Increase your Traffic and Ranking you say in simple word it is compulsory For Seo.it helps you Blog to get better rankings in search engines.
If any Problem you Face in Blogging Contact us and Leave Comments.