File Sharing and Document Sharing are very Important in Online Fields. if we want to share our Files with our Friends and other people and want to Store anything online. we easily Save and share. File-sharing web services solve most of these problems.
Most of them allow large files to be sent securely. we can Save our documents online and Easy access to our Documents. For bloggers, it is very helpful for them. We know that Document Sharing Sites are one of the important sources to get high-quality and do-follow backlinks. They Help Us Rank Sites and Many other Factors. Backlinks from High Page Rank, Domain Authority, Good Alexa Rank, and Page Authority are most important to get a good score in SEO.
Top 10 Best File Sharing Sites – Document Sharing Websites
1 – Issuu
issuu is a very popular website millions of readers find and share the magazines, catalogs, and publications they love on the issue. Issuu was founded in Copenhagen, Denmark in 2006 by Michael Hansen.
2 – Google drive
We can store Our File Free of Cost.Google Drive is one of the popular file-sharing WebApp provided by the Google.t provide 15 GB space for free. Get access to files anywhere through secure cloud storage and file backup for your photos, videos, files, and more with Google Drive.
3 – Dropbox
Dropbox.com is also a file hosting site. It was developed by Arash Ferdowsi and Drew Houston in 2007 May .dropbox is a service that keeps your files safe, synced, and easy to share. Bring your photos, docs, and videos anywhere and never lose a file again.
4 – 4Shared
4shared.com is a file-sharing site it was founded by Sergey Chudnovsky and Alex Lunkov in 2005.online file sharing and storage – 15 GB free webspace. Easy registration. File upload progressor. Multiple file transfer. Fast download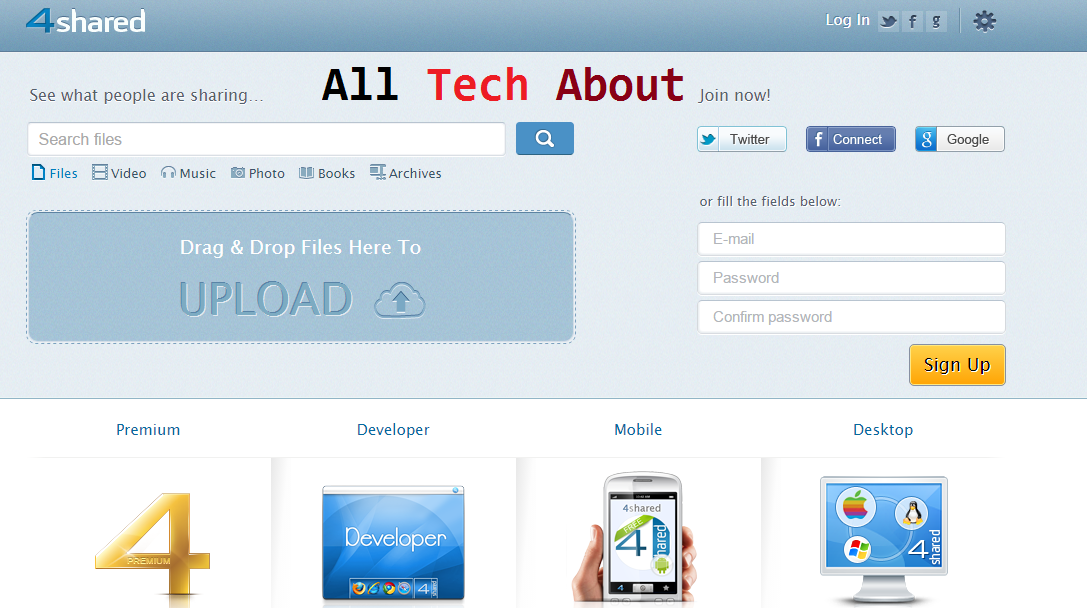 5 – Mediafire
Mediafire is a file hosting and cloud storage service based in the United States. This awesome website was founded in June 2006 by Tom Langridge and Derek Laban.MediaFire is a simple to use free service that lets you put all your photos, documents, music, and video in a single place.
6 – icloud
iCloud connects you and your Apple devices in amazing ways. iCloud Photo Library and iCloud Drive keep all your photos, videos, and documents stored.
7 – OneDrive
Get to your files from anywhere, on any device, with Microsoft OneDrive. Share and work together with anyone in your work and life. Access and share your files from anywhere by keeping them in OneDrive.Onedrive.com developed by Microsoft launched on august 2, 2007. Onedrive was available to 62 countries.
8 – Box
Box.com is another popular business purpose file sharing a website that allows you to share a file securely.
9 – Mega.nz
MEGA provides free cloud storage with convenient and powerful always-on privacy. Claim your free 50GB now!
10 – Zippyshare
Zippyshare.com is another popular website that allows us to share a file without any need for account creation that is we do not sign up for file sharing. This website is totally free and allows you to upload a file of 200 MB each.Zippyshare.com is a 100% Free file hosting service. It was developed in May 2006 and more popular in the world, 30 million users use this site
11 – Uploaded
Uploaded.net is a popular file-sharing website that provide you an attractive and easy to use interface in blue color.
12 – Sendspace.com
Spendspace.com is a very popular website to share files with your friends and relatives. You can sign up for a free account to share big files. Sendspace allows you to share big files by paying some amount of money.
13 – http://ge.tt
Ge.tt is a clever, instant file-sharing web app that makes sharing files simple and fast. No need to wait for files to upload! You are given a link for your files as soon as you select them. Ge.tt doesn't use Flash, Java applets, or any other plug-inFiles uploaded to ge.tt cannot exceed 2 GB. Files will be deleted 30 days after their last download
14 – Hightail.com
Hightail.com is another popular website to share our files with friends and relatives. It also provides a free account sign up and also provides a free trial to use it.Hightail.com is a cloud-based file upload service. It was developed in 2004 by Amir Shaikh, Ranjith, and Khalid.
15 – Wetransfer
Wetransfer was founded by Nalden in 2009. With the transfer, you can upload your images, videos, and text files and share them on the social network. WeTransfer Plus account offers more than one function:- Transfer up to 10 GB, Password protection, Social sharing options, Transfer manager.
16 – 2shared.com
Online file upload – unlimited free web space. File sharing network. File upload progressor. Fast download
17 – Uploading
Online file upload – unlimited free web space. File sharing network. File upload progressor. Fast download
18 – Megaupload
MegaUpload, one of the largest file-sharing sites on the Internet
19 – Depositfiles
DepositFiles service options. We store your files on our servers FREE for an unlimited time. Download your files from slow servers to our servers and store them
20 – Fileserve.com
FileServe can only be used to download and retrieve files that you have uploaded personally
21 –Filefactory
FileFactory is the best place to upload and share files with no limits since 2005. Send and receive any type of file up to a massive 5GB with unlimited file
22 – Sharesend.com
The easy way to upload and share your files on the cloud, sharing your files could never be any easier!
23 – Wikiupload.com
Upload files free: hosting for music, documents, mp3, and files and images. Free File Storage that is simplest and easy to use
24 –Filesave.me
The ultimate file hosting service! Free web space for your documents, pictures, music, and movies. Share your files with friends, on Social Networks
25 – Filecrop.com
File Scrop ShareFile is the secure file sharing and transfer service that's built for business. Share files with clients and colleagues professionally
More New Document Sharing Sites On The Internet
www.scribd.com
www.streamfile.com
www.slideshare.net
http://turbobit.net
http://www.getcloudapp.com
https://www.sugarsync.com/index1t.html
http://droplr.com
https://getsharex.com
https://volafile.io
https://anonfiles.com
http://www.filedropper.com
https://userscloud.com
http://pyget.com
https://filesender.io
http://expirebox.com
https://jumpshare.com
https://www.filesanywhere.com
http://filenurse.com
https://poetic.io
http://rapidgator.net
https://www.myairbridge.com/en
http://www.telxsendit.com
http://netkups.com
http://www.myupload.dk/createuser
http://hitfile.net
https://foldder.com
http://www.tusfiles.net
http://www.datafilehost.com
http://wikisend.com
http://www.howfile.com
http://filerio.in
http://uptobox.com
http://www.ziddu.com
http://www.share-online.biz
http://180upload.com
http://www.nowdownload.to
https://www.solidfiles.com
https://files.fm
http://www.tinyupload.com
http://pixeldra.in
http://filenuke.com
https://firedrop.com
http://sendfiles2.me
http://www.shareflare.net
http://www.sendmyway.com
http://www.arabloads.net
http://filecargo.com
http://www.load.to
http://www.senduit.com
www.wattpad.com
www.docstoc.com
www.lulu.com
www.free-ebooks.net
www.smashwords.com
www.authorstream.com
www.powershow.com
http://thepiratebay.org
http://e-library.net
http://wikisend.com
https://www.mailbigfile.com
https://www.sendthisfile.com/index.jsp
https://www.idrive.com
http://drop.io
http://www.senduit.com
http://www.filedropper.com
www.pdfcast.org
http://www.empressr.com
docs.thinkfree.com
fliiby.com
www.edocr.com
https://disk.yandex.com
https://www.amazon.com/clouddrive/learnmore
https://temp-share.com
http://www.telxsendit.com
http://jirafeau.net
http://spicyfile.com/?op=login
http://www.ziddu.com
http://www.shareflare.net
http://sharerepo.com
https://1fichier.com
http://www.delafil.se/en
http://turbobit.net
http://www.telxsendit.com
http://www.multiupfile.com
https://www.cuetransfer.com
https://upload.guru/en
http://koofr.eu
https://foldder.com
Hope All Site Working For you Most of the popular slide and document sharing sites list.For any SEO Expert or Blogger, it is very helpful.Use these sites and promote your website worldwide. if you Face any Error and Problem Freely Contact us. Give your feedback. Thank you.